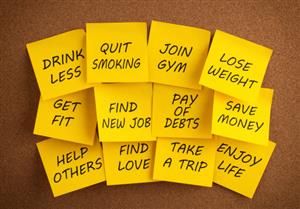 How To Create And Actually Implement Your New Year's Resolutions
If you review your lists of New Year's resolutions from the past few years, the odds are high they will all look remarkably similar. Fortunately, 2015 can be your year to make changes not just to yourself but also to your approach to your New Year's resolutions. To empower yourself to execute on your action items this year, you will need to make meaningful, realistic resolutions, implement practices to keep them, and work to keep your motivation.
Writing Your List: To start, make sure you are setting a list of resolutions that will actually be possible to keep. For example, if you have not exercised in three years, committing to running three miles each day will be a stretch. Instead, try breaking bigger goals into small pieces, committing to make one change every few months. Also, be sure that your resolutions address mental, physical, spiritual and emotional growth so that you can develop as a whole person next year.
Sticking To It: Start right away. There is an energy that comes with the first of the year- do not waste it! Tell your family and friends about your resolutions so you can be held accountable well into the year. When you reach a small milestone, make sure you celebrate it. That extra excitement will keep you motivated.
When You Start To Backslide: Do not worry- it is completely normal for your energy around making serious changes to decrease with time. If you start to have negative thoughts when you slip up, write them down and address them immediately. Remember your progresses and maintain a positive attitude. Keep a gratitude journal to stay upbeat and track your changes.
For guidance around making changes that will help you become your best self in 2015, contact Community Presbyterian Counseling Center in San Ramon, California today. Our center is committed to offering you the help you need. For teammates to join you on your journey this year, do not hesitate to call us.